16 LUXURY
Serviced Apartments
in Knightsbridge
Click Here
★★★★★

16 LUXURY
Serviced Apartments
in Knightsbridge
Click Here
★★★★★
Claverley Court, Knightsbridge, London SW3 1PS
Claver­ley Court Ser­viced Apart­ments offer the very best in 5-star Lon­don lux­ury. Located in a tree-lined square just around the cor­ner from world famous depart­ment stores, Har­rods and Har­vey Nichols.
We offer a wide range of apartments, 16 in total, with a selection from Studios to Luxury Three-Bedroom Suites. Designed to create a luxurious, comfortable and homely environment, all the apartments feature the very best furnishings, fabrics, wallpapers, woven carpets and exquisite polished plaster finishes. And, all apartments face east and west to maximise light and during the summer month's guests can enjoy either a London sunrise or sunset.
ABOUT KNIGHTSBRIDGE LONDON
Knightsbridge is one of London's most prestigious addresses, suitably described as 'a cosmopolitan byword for wealth, taste and discernment'.
A haute couture haven, it is an area where the world's rich, royal and celebrated can move around largely undisturbed. Knightsbridge is centrally located in the City of Westminster and borders onto Belgravia, the home of London's social elite. The area is renowned for its vast range of exclusive bars and is a hot-spot of night-life to suit all tastes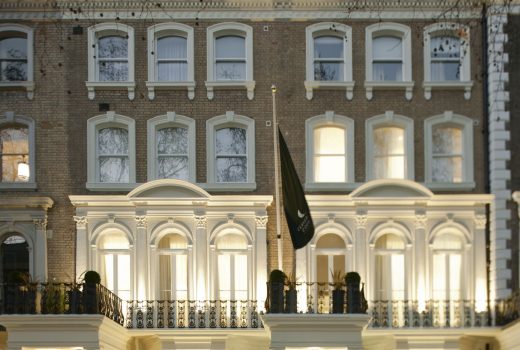 LUXURY, LOCATION & EXCEPTIONAL SERVICE